金目鯛の煮付け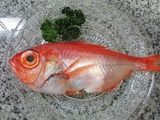 きんめだいは いまが しゅんです。

This is the best season for kinme-dai(kind of breams).
しょうが ふうみで 10~15 ふん にて できあがり

Boil it for 10-15 min. with soy sauce and sugar adding a bit ginger and it will be ready.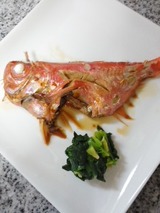 めの まわりの ゼラチンの ところも ぜひ たべて ください。
Try to eat the parts of gelatin around the eyes as well

おいしい ですよ!!
You will like it

ごはんが すすむ いっぴん です。
It's a good meal to match rice